Ideal Weight / Height
THE EUROPE DINGHY
The secret of Europe Class sailors success?
It's simple; a one-design hull and a developmental rig. The boat can absorb a wide range of body types, from lean and tall to shorter and wider ! The possibility of considerable rig trimming, like cunningham, outhaul, inhaul, kicker, traveller, mast rake and centreboard position, together with various stiffness of mast, fuller or flatter sails, contribute to have a high knowledge of rig characteristics needed for future Olympic Classes. It is common to see a light weight woman sailor passing a heavier weight man sailor in fresh conditions. If you get the rig right, you go faster irrespective of how heavy you are !
The Europe dinghy is ideal for a large number of sailors.
In our last World Championship Class statistics we can read that the range of weight and height.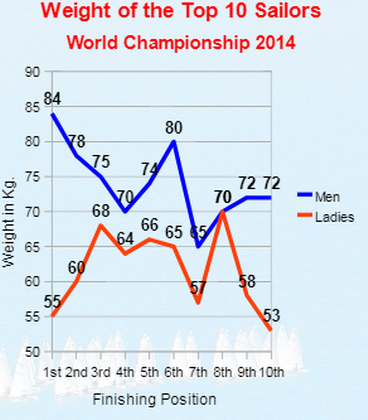 These figures corresponds to the SAME event, same dates, same racing area.
Why on the men one of the heaviest sailors won the Worlds and at the same tome on the ladies it was one of the lightests ?
BECAUSE THE EUROPE DINGHY FITS ALMOST ALL BODY SIZES !!!
WORLD CHAMPIONSHIP - All Participants
Men, from 53 to 85 Kg. /
from 165 to 196 cm.
Women, from 46 to 76 Kg. /
from 155 to 188 cm.
Men, 65 to 84 Kg, a
difference of 19 Kg !
Women, 53 to 70
Kg, a difference of 17 Kg !
YOUTH EUROPEAN Ch. -
All Participants.
Men, from 50 to 85 Kg /
from 163 to 197 cm.
Women, from 48 to 72 Kg. /
from 152 to 178 cm